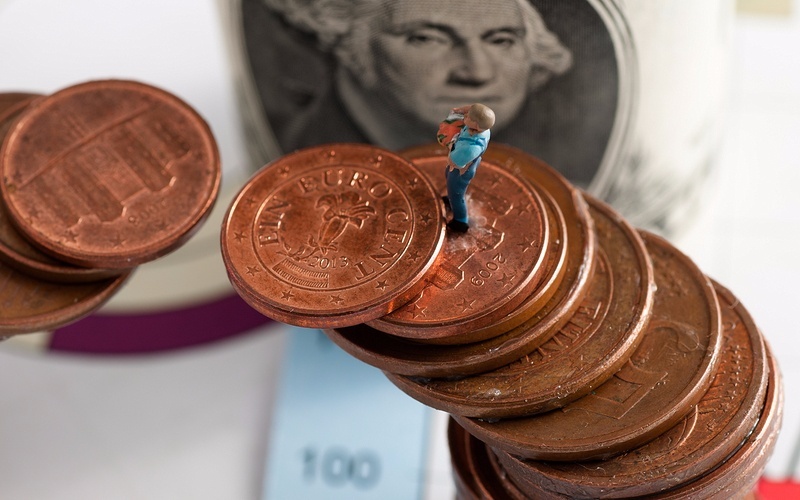 ---
Well, those are stocks that we have been trading since 2003 using our unique Calendar Spread strategy.
This strategy has been one of our best performers. We don't really care what the stock does, and we close the trade before earnings. The gains are usually based on volatility skew that exists before earnings and widens as we get closer to the announcement date.
The last earnings cycle was no exception. This is how those trades performed in October 2016 cycle:
FB - 37.2% gain
AMZN - 30.0% gain
NFLX - 26.3% gain
GOOG - 57.9%, 37.3%, 45.8% and 21.6% gains (yes, we milked it 4 times in one cycle)
Here are the results of those trades since we started trading them: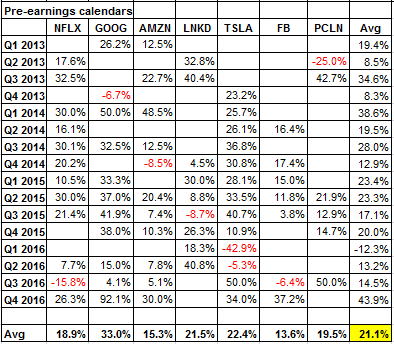 Why we trade those non-directional strategies instead of just buying the stocks? Few reasons:
We don't have to guess the direction the stock is moving.

We don't have to study the fundamentals and to find out if it's still a good buy?

In case of earnings miss (see AMZN case), we don't care if the current pullback is just bump in the road or there is more downside ahead of us.

We don't care if the growth story is still intact or over.
It was an excellent earnings season for us. We also booked 34% gain in TSLA, 19% on NKE and few more nice winners. Our model portfolio was up 22.9% in October alone, and up 80.1% since April.
Some members did even better. Here is a testimonial from one of our members after we closed FB trade: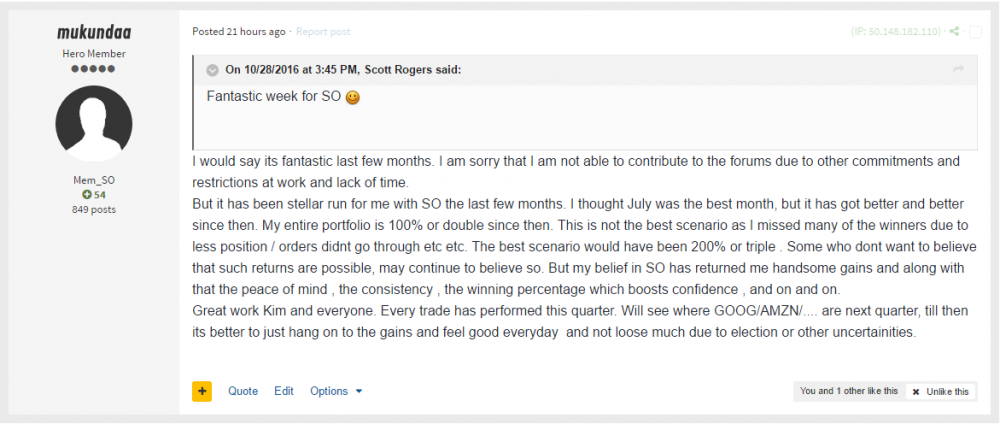 This member joined SteadyOptions 3 years ago as a complete novice. He came a looooong way. This is where hard work, commitment and determination can bring you.
At SteadyOptions we spend hundreds of hours of backtesting to find the best parameters for our trades:
Which strategy is suitable for which stocks?
When is the optimal time to enter?
How to manage the position?
When to take profits?
Related Articles:
If you want to learn more how to use our profitable strategies and increase your odds: