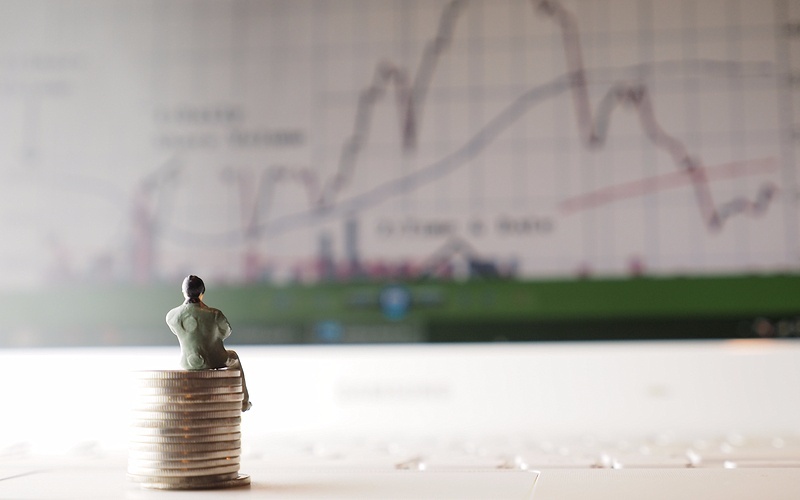 ---
The assumption is that with careful stock selection, this strategy has a very high probability of success.
I performed extensive backtesting on number of stocks, and the results were very promising. Stocks like AMZN and LNKD showed average gains of 30-35%. However, I also mentioned that this strategy has higher risk than other strategies that we use since earnings are unpredictable. High Probability High Risk is the right definition of this strategy.
Not a good start..
Our first trade was NFLX. The stock has been selected based on its historical moves. It moved 13.7% on average in the last 8 cycles. The options predicted 17% move. The RIC trade was structured in a way that it required only 8% post-earnings move. What are the odds that the stock will move only 0.13% post-earnings? Slim to none if you asked anyone before earnings. Yet this is exactly what happened.
We had a chance to close the trade at small loss or with some luck, even a small gain. But with 3 days left to expiration, we decided to wait. The stock reversed, resulting a 46.9% loss. Not a good start.
The next one was AMZN. This one actually worked not bad. It did not move as much as expected, but still moved enough to produce a 21.2% gain.
The real disaster came with the next two trades, GOOG and TSLA. The stocks moved much less than expected, reversed after the initial move and the trades have lost 70.6% and 100% respectively. With better risk management, all three losers could be closed for a small loss or even a small gain. I posted a full post mortem here (members only forum).
Some members with higher risk tolerance decided to hold longer and were able to book 30-40%+ gains on AMZN and GOOG. In some cases the difference between significant loss and decent gain was a pure luck.
What went wrong?
This strategy is based on probabilities. If a stock moves xxx% in the last 8 cycles, there is a high probability that it will follow the same pattern the next cycle. However, probability is not certainty. There is always a chance that this cycle will be different. What are the chances that ALL 4 stocks will not follow the last cycles pattern? Not high, but this is exactly what happened. This is why you always need to have plan B. You always need to know in advance what to do if the trade does not behave as expected. It's called an exit plan to cut the loss. Instead of trying to cut the loss (and give up some potential gains), we continued holding, "hoping" that the stock will eventually make a move consistent with its historical patterns. It just did not happen.
It all comes to what kind of trader you want to be. Is your goal to limit the losses or to maximize the gains? You cannot have it both ways. Higher gains come with higher risk and inevitably will produce some big losers.
My first priority has always been limiting the losses. This time I tried to go for higher gains instead of limiting the losses, and it fired back big time. To be fair, all four trades could easily produce 30-40% gains with some more luck and more favorable market conditions.
Main lessons
Look for a good setup. Even if a stock is a good candidate historically, the options might be too expensive this time, decreasing your chances.
Get out quickly once it becomes clear that the stock did not produce the expected move and the trade is borderline. Most of the time it should be possible to limit the loss to 10-20%. This rule might miss some gains, but at least we won't have catastrophic losses like we had this cycle.
Close the short options of the losing side early, especially if there is still couple days till expiration. This way if the stock reverses, the losing side will benefit more.
The probabilities will eventually play out, but while they don't, do everything you can to stay in the game. Limiting losses is all that matters.
Always follow the rules.

Generally speaking, if you consider this (or any other) strategy too risky, reduce your allocation or don't trade it. In a broader context, I always recommend that new members start with paper trading, then start small and increase the allocation gradually. Prove yourself that you can make money with 10k account for few months, then increase it to 20k etc. Don't jump right away from 10k to 50k or 100k.

What's next?
I feel the pain as much as my members do since I trade the exact same trades in my personal account. This was a very expensive lesson for all of us. However, I believe each lesson should benefit us and make us better traders.
After a losing streak, your first impulse might be to overtrade in attempt to recover the losses. HUGE MISTAKE. The market doesn't know that you have lost money. And it doesn't care. If you tell yourself "now I really need some nice winners to cover for the losses", it's a safe path to more losses.
What separates good traders from bad is how you react to your losses. "There's a difference between knowing the path... and walking the path." - Morpheus. To paraphrase Morpheus sentence, "there's a difference between knowing that there will be losers... and actually experiencing them". In a probability game, it is guaranteed that we will eventually experience a string of losses.
The right thing to do is continue to execute our trading plan that has worked so well for us in the last 4+ years.
Summary
It gets tough when we experience losses or poor performances and that's where most traders quit because in the first place they never accepted emotionally that they are playing a probability game. As soon as a few losing trades and/or a drawdown of any kind occurs they hit the eject button and continue in their search for the Holy Grail strategy that always wins. Jumping from one trading system to another will only lead to more frustration. Only when you will accept emotionally that you are playing a probability game, you will be able to take your trading to the next level.
We present a variety of strategies to our members. Some are more risky than others. Members have different risk tolerance and should take the risk levels of different trades into consideration before trading. Before entering each one of those trades, I made a full disclosure that those are relatively risky trades, so members have all the information to make an educated decision.
To put things in perspective, the current string of losers is our biggest losing streak since inception. I encourage current and prospective members to look at the big picture. The big picture is that SteadyOptions produced over 770% non-compounded ROI since inception. The big picture is our history of 800+ trades and not only the last 10 trades. One bad month does not erase 4+ years of exceptional gains.
Losses are part of the game, and if you can not endure losses, you should not be trading. Your maximum drawdown is ahead of you, not behind you. We will continue executing our trading plan, and those who have the discipline and patience to stay the course will be greatly rewarded.
Related Articles: