---
That's great, because it means there is discord, and discord, especially for Apple ahead of earnings has meant a repeating pattern for the clever trader to take advantage of. 
One week before Apple's earnings would be January 25th, 2018. 

Apple's Disagreement 
Sometimes a bullish momentum bet works great -- and in fact, for Apple that has been a strong pattern ahead of earnings. But with a toppy market, sometimes a different approach can work as well. 

It turns out, over the long-run, for stocks with certain tendencies like Apple Inc, there is a clever way to trade market anxiety or market optimism before earnings announcements with options. 

This approach has returned 189% with 10 wins and 2 losses over the last 3-years. 

The Trade Before Earnings 
What a trader wants to do is to see the results of buying a slightly out of the money strangle one-week before earnings, and then sell that strangle just before earnings. 

Here is the setup: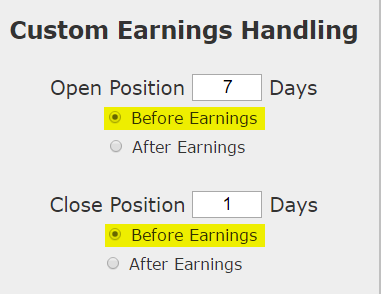 We are testing opening the position 7 calendar days before earnings and then closing the position 1 day before earnings. This is not making any earnings bet. This is not making any stock direction bet. 

Once we apply that simple rule to our back-test, we run it on a 40-delta strangle, which is a fancy of saying, buying both the 40-delta call and 40-delta put, for a non-directional bet on volatility. 

Returns 
If we did this long strangle in Apple Inc (NASDAQ:AAPL) over the last three-years, but only held it before earnings, using the options closest to 14 days from expiration, we get these results: 
 

The mechanics of the TradeMachine™ are that it uses end of day prices for every back-test entry and exit (every trigger). 

We see a 189% return, testing this over the last 12 earnings dates in Apple Inc. 

We can also see that this strategy hasn't been a winner all the time, rather it has won 10 times and lost 2 times, for a 83.3% win-rate on an one-week trade. 

Setting Expectations 
While this strategy has an overall return of 189%, the trade details keep us in bounds with expectations: 
      ➡ The average percent return per trade was 16.9% over 7-days. 
      ➡ The average percent return per winning trade was 21.8% over 7-days. 
      ➡ The average percent return per losing trade was -7.6% over 7-days. 

We like the comfort of a trade that, when it loses, it isn't a disaster -- at least not historically. 

Option Trading in the Last Year 
We can also look at the last year of earnings releases and examine the results: 
 

In the latest year this pre-earnings option trade has 4 wins and lost 0 times and returned 98.2%. 
      ➡ Over just the last year, the average percent return per trade was 22.3% over 7-days. 

WHAT HAPPENED 
We don't always have to look at bullish back-tests in a bull market -- sometimes a straight down the middle volatility pattern pops up. This is it -- this is how people profit from the option market -- finding trading opportunities that avoid earnings risk and work equally well during a bull or bear market. 

To see how to do this for any stock we welcome you to watch this quick demonstration video: 

Tap Here to See the Tools at Work 

Risk Disclosure 
You should read the Characteristics and Risks of Standardized Options. 

Past performance is not an indication of future results.