---
First, few facts about Karen the Supertrader's strategy. She started trading index options in 2008 with $100,000. The highlights of her strategy:
She mainly trades the S&P 500 Index (SPX).
Sells calls and puts (strangles) at 56 DTE (Days To Expiration) and keeps the trade on for a few weeks.
Calls are about 10% OTM, puts about 12% OTM.
Karen commits around 50% of her capital, though sometimes she will go as high as a 70% capital commitment.
Those rules can be modified based on market volatility.
Here is the video:
Today she manages 190 million dollars, after making nearly 105 million in profits.
 Before we start analyzing Karen the Supertrader's strategy, lets be clear: she did NOT make 105 million in profits as TastyTrade claims. That number includes money from new investors. This headline is misleading at best, deception at worst.
How much did she really make? We don't really know, but lets try to "guess".
With SPX currently at 2075, she would sell May 1825 puts and 2280 calls. This is how the P/L chart would look: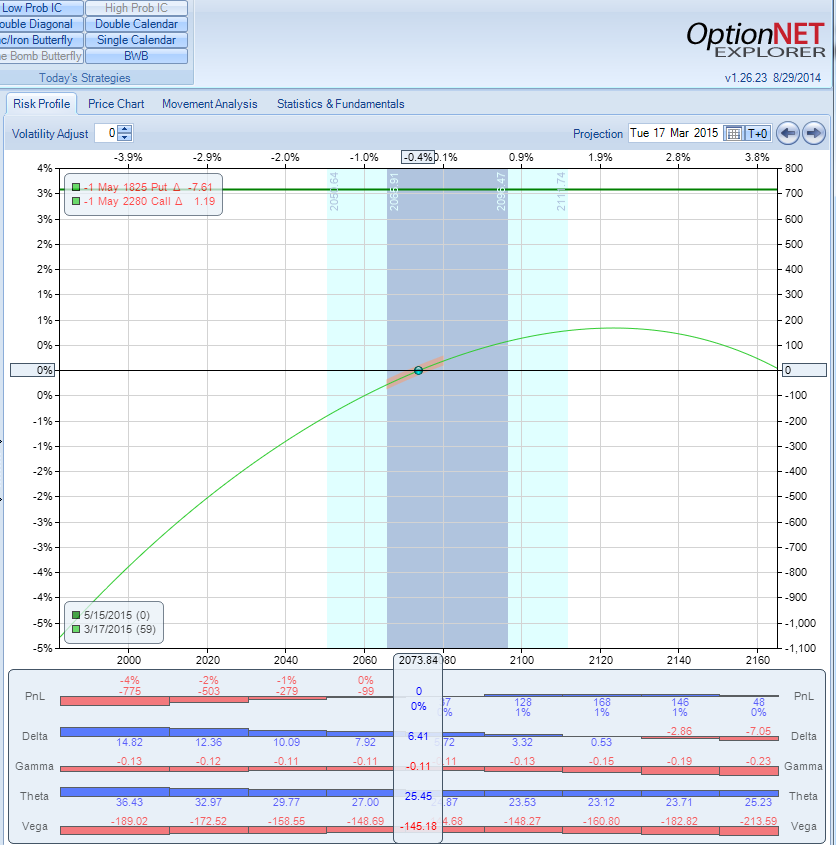 So she would get around $700 credit on ~21k in margin. If she holds till expiration and both options expire worthless, the trade produces 3.5% gain in 59 days. That's 21% annualized gain on 50% capital, or ~11% gain on the whole account.
This assumes that both options expire worthless and no adjustment is needed. This also assumes regular margin. With her capital, she obviously gets portfolio margin, so her margin requirements are significantly less. But if she wants to take advantage of portfolio margin, she has to sell more contracts, taking much more risk. For the sake of her investors, I hope she is using 50% of the regular margin, not portfolio margin.
In any case, I have hard time to see how she can make more than 25-30%/year with this strategy. Don't get me wrong, this is an excellent return - however, by selling naked options, she also takes a LOT of risk. To make 25-30%/year with this strategy, she must use a lot of portfolio margin - which means a lot of leverage.  Karen the Supertrader's strategy is also short gamma and short vega, which means as the market moves against her, the positions become worse at a greater rate. If volatility spikes like it did in 2008, her account will be gone in matter of days.
Here are some questions/comments taken from public discussions about Karen SuperTrader:
I really have no idea how that is possible. In the TOS platform, if I sell a naked Put, the usual margin required is very large. We're talking that my short Put usually would yield between 1.5% – 2.5% of the margin required. -
I think there is more than a fair chance she may be a fraud and possibly even an invention of TastyTrade. Any manager worth her salt would be happy to provide audited returns, especially if only managing 150 million.
She is probably generating around 30% a year while taking a lot of risk. I don't know if that makes sense in the long run.
Another thing that's strange is the fact there's not even one chart or table of her performance. I hear a lot of big numbers but just give the facts black on white.
This strategy will only work for a period of time. When it stops, the results will be catastrophic.
If she was that good as she claims she is, after 7 years of such spectacular returns she would have few billion under management, not 190 million.
It's Finance 101 isn't it? The higher the return, the higher the risk you have to take. If she is generating 30% or greater per year, she is taking on a lot of risk. Hopefully her investors realize that.
Here are some articles about Karen SuperTrader:
http://www.optionstradingiq.com/karen-the-supertrader/
http://smoothprofit.blogspot.ca/2012/11/a-glimpse-of-option-strategies-of-karen.html
So: IS Karen SuperTrader myth or reality? You decide.
June 2016 update:
Karen is now being investigated by the SEC for fraud. Don't say we didn't warn you.
Read my latest article: Karen Supertrader: Too Good To Be True?

Here are the links to the SEC claim and the verdict:

https://www.sec.gov/news/pressrelease/2016-98.html
https://www.sec.gov/alj/aljdec/2019/id1386cff.pdf
I suspect that investors will not learn the lesson from this case.  Humans desperately want to believe there is a way to make money with no or little risk. That's why Bernie Madoff existed, and it will never change.
TastyTrade removed all articles and videos related to Karen the Supertrader from their website and YouTube right after the SEC investigation started, but returned them few days afterwards.