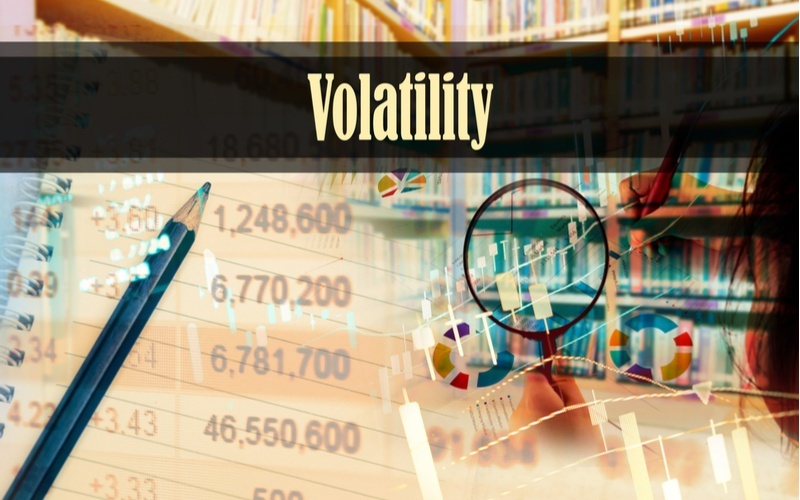 ---
VXX History
Jill Malandrino, formerly of TheStreet.com writes it beautifully when she notes: 
 

This has a negative impact on VXX as the strategy VXX was created to follow will consistently sell front-month futures and buy second-month futures.

 



This buying and selling of futures contracts is done to maintain a 30-day weighting between the two. Often this means that cheaper futures are being sold and more expensive futures being purchased. Eventually the second month future becomes the front month and the strategy will sell those contracts and begin purchasing the farther month.

 



Often when selling commences the price of the future is lower than when it was purchased and the vast majority of the time the front month is being sold for less premium than is being paid for second month.

 

To see how often VIX futures are in contango, or more precisely, how often VXX falls, here is an all-time price chart for trading VXX options: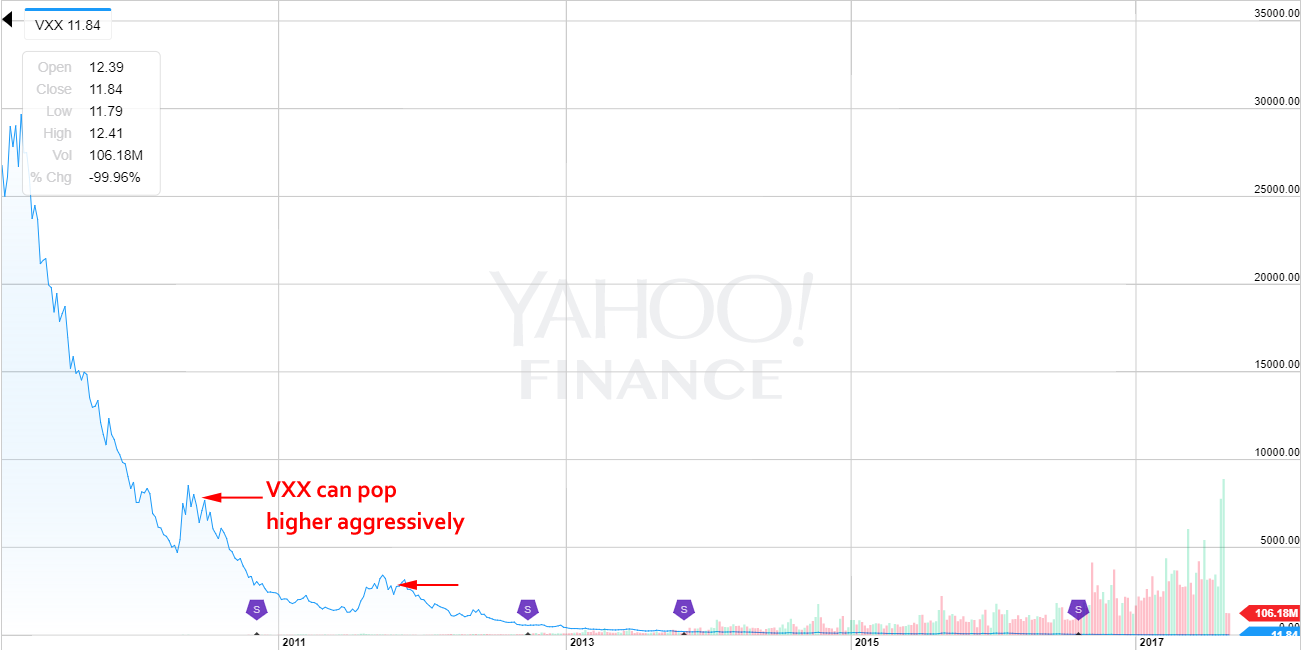 Yep, the VXX is down 99.96% since inception. The reason is simply that VIX is almost always in contango. For the times that VIX falls out of contango, we can see abrupt pops in the VXX which we have highlighted in the image above. 
The Incredible Option Trade In VXX
in 2017, Ophir Gottlieb from CMLviz Trade Machine tested buying a put option spread in the VXX using the 90 day options over the last five-years. Here are the results of this VXX options trading strategy: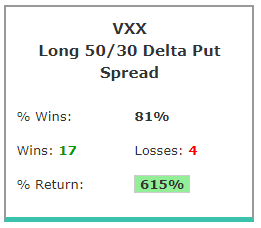 We see a 615% return, testing this over the last 5-years. Since we tested the 90 day options, that was 21 trades, in which 17 were winners and 4 were losers. 

In fact, this strategy would be a winner every single year in 2010-2017.
2018 was very different
2018 was a very different year in many areas. In fact, 2018 was a first positive year for VXX since inception: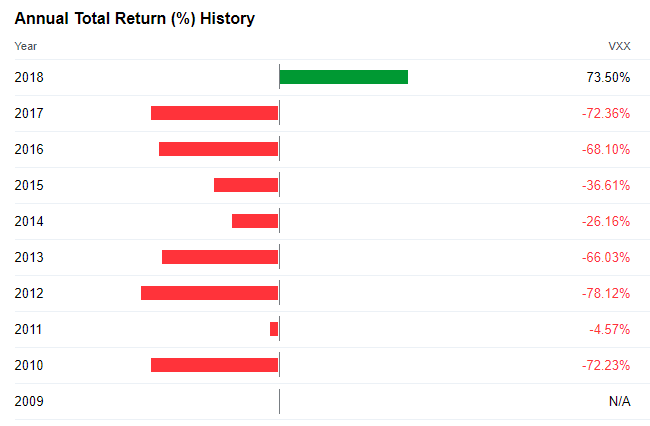 We tested the same VXX strategy in 2018. Here are the results:
  

That's right, for the first time since 2010, this strategy would produce negative returns. Which is not surprising, considering VXX was up 73.5% in 2018.

In fact, some periods in 2018 (specifically February and December) were so brutal that some funds blew up their clients account. The Spectacular Fall Of LJM Preservation And Growth describes one of those funds. Some of those funds were in business for over 20 years, but when volatility went through the roof in February, it was too much for them.
How to do it the right way
The way to create more consistent returns shorting volatility is to utilize spreads to hedge your position.  At the simplest level, this modestly reduces profit potential but dramatically reduces loss potential.  Even under the hedged scenario we can still create a 1:1 Risk:Reward on a trade that wins about 75% of the time.  The key is when that wave of massive volatility hits the market seemingly overnight, we are dealing with a manageable loss rather than something catastrophic as one would expect in the unhedged scenario. 

There are times when extreme volatility will give solid opportunity to short volatility unhedged, but it should always be done with a very small allocation.  Patience and experience is also key with regard to entering, adjusting and exiting positions.  In addition there are times when things get so out of touch with reality that the best course of action is to simply sit out for a bit and let the dust settle.  It is likely that the most successful volatility traders use a combination of discretionary and systematic strategies in their trading.

Our PureVolatility portfolio (which is part of Creating Alpha service) produced double digit returns in 2018 during a first positive year for VXX since inception. Considering the overall market environment, this is an incredible performance.

The Incredible Winning Trade In SVXY describes one example of how the strategy performed in February when VIX doubled in a single day. Overall this trade produced almost 45% gain on margin or 26% gain on $10,000 portfolio.

A trade that was long SVXY, was a big winner after SVXY went down 90%+. This is options trading at its best. And this is the power of our trading community.
Edited by Kim