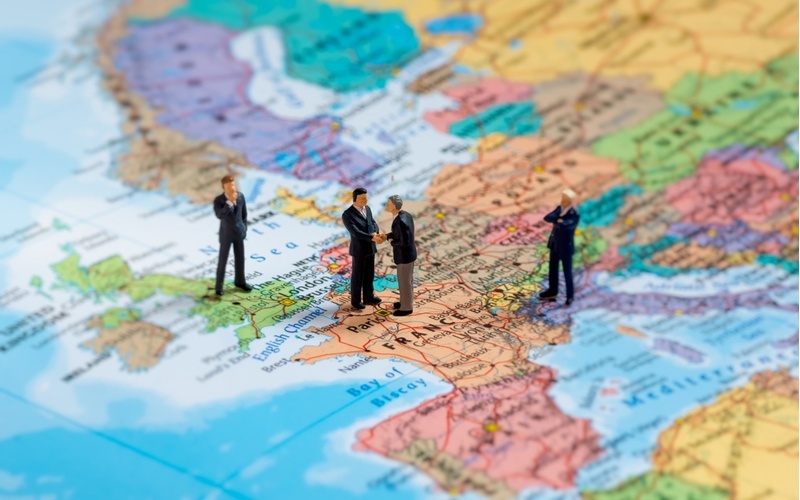 ---
I would like to share some parameters of selecting the right broker, based on my personal experience and feedback from our trading community. You can also read our extensive Brokers and commissions discussion on our forum.

First, lets take a look at excellent Brokers Review published by Barrons. They do it every year, and it's worth to review the results and to read the brokers description.

In 2018, Interactive Brokers takes the top spot, dominating in range of offerings, portfolio analysis and reports, and costs categories.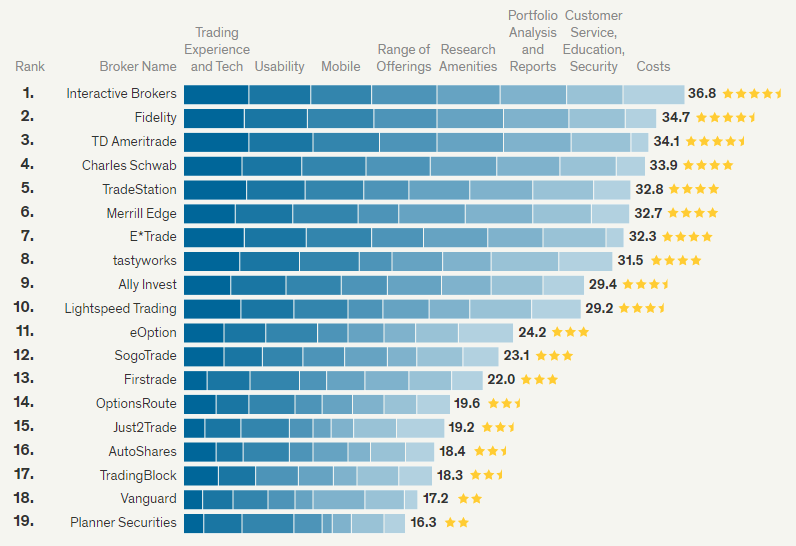 What is more important for us as options traders is the "Best for Options Traders" category. Interactive Brokers is #1 in this category as well.





What makes IB the best overall broker?

You can read the Barrons article for details, but let me share my personal opinion.

I believe that there are three most important factors when selecting the options broker:
Cost
Lets assume that you buy a straddle for $2 ($1 each option). With IB you will pay 0.70 per contract. To do a round trip trade is $2.80. This is 1.4% of the cost of the trade. So if my gain is 10%, then I keep 8.6% after commissions.

If you pay $1.5 per contract, then your total cost is $6. That's 3%. You need 3% gain just to break even.

Over time, this is HUGE. Commissions are probably the single most important factor if you are an active trader.

Some brokers also charge a fee per ticket. This is an account killer, especially for smaller accounts. If your broker charges a ticket fee, you need to change brokers immediately.

Here is an example from Etrade: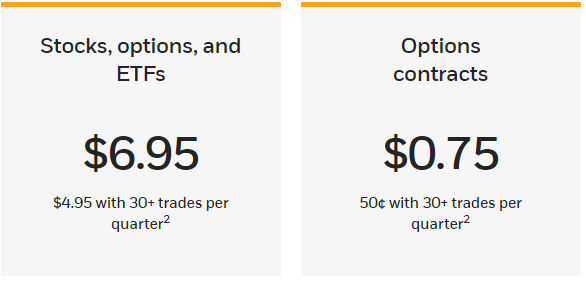 Just to be clear, you will be paying $6.95 PER TRADE ($4.95 for more active traders) In addition to per contract fee. So if you trade for example one straddle, it will cost you (as an active trader) $11.90 for a round trip trade, compared to ~$3 with IB.

TD Ameritrade is even worse:





I'm sorry, but this is a robbery. Those brokers simply don't deserve your business.

IB used to be the cheapest broker, but there are few other excellent options today in terms of cost.

SteadyOptions members might consider Tradier Brokerage Special Offer. Tradier offers a special $40/Month of Flat Price Trading for SteadyOptions Clients. For $40/month the SteadyOptions client can trade unlimited options trades and there will be no per trade commissions. Please review the link for details.

eOption also offers a special rate of $1.99 per options trade (or equity trade) plus 10₵ per options contract.to our members. Please see eOption Brokerage Special Offer for more details.

tastyworks is also an excellent option, especially for larger accounts. They charge $1.00 per contract for opening trades, $0.00 for closing trades (so just slightly cheaper than IB), but they also capped the commissions to $10 per leg. For larger accounts, this means huge savings.
Execution
What's the point to have low commissions if your execution sucks?

Well, IB has one of the best executions in the industry, thanks to its "Smart Routing":
Unlike smart routers from other online brokers, IB SmartRouting never routes and forgets about your order. It continuously evaluates fast changing market conditions and dynamically re-routes all or parts of your order seeking to achieve optimal execution and maximize your rebate.
IB SmartRouting represents each leg of a spread order independently and submits each leg at the best possible venue.
From my experience, and based on members feedback, this algorithm does indeed provide an advantage compared to most other brokers. However, members who used Tradier and tastyworks also reported pretty good results.
Platform
Having a good and intuitive platform is the third factor that you should consider.
It should be stable, intuitive and offer fast way to place trades. IB platform requires some learning curve, and some users consider it outdated, but personally, I like it. I might be biased as I have been using for over 10 years now, but I believe the learning curve is well worth it.
Many users praise TD Ameritrade (thinkorswim) platform for its expensive features, but their current commissions structure makes it terrible for active options traders. Unless you were grandfathered at their older rates, or can negotiate commissions under $1.00/contract with no ticket fee, I would avoid them.
Other Considerations
There are some other things that you should consider, such as:
How is the Customer service? Unfortunately, IB has one of the worst customer services in the industry. Don't expect any hand holding, and don't expect any help in case you have some trading issue. Their philosophy is "our algorithm is always right, obviously you (the customer) did something wrong." 
Does the broker charge extra for real time data and how much?
How about assignment fee and exercise fee? IB charges ZERO for both, while some other brokers charge $15-20.
What are the margin rates? IB has the lowest margin rates in the industry.
What happens in case of margin call? IB has the strictest rules regarding margin rules. When you get a margin call (in case of assignment for example), they might liquidate your positions within minutes. It's an automated process, nothing you can do about it, so try not to get a margin call with IB.
What about Global Markets? IB is rated #1 by Stockbrokers.com in the Best for International Traders category. It offers very wide range of international markets and products, and also accepts clients from all around the Globe. Many other brokers have limited exposure in terms of countries they accept clients from. 
Conclusion
In this article, I tried to offer some personal perspective on selecting an options broker. In my opinion, Interactive Brokers, tastyworks and Tradier offer the best combination of cost, execution and platform. 

That doesn't mean there are no other good brokers. This conclusion is based on my personal experience and feedback from hundreds of members.
 
Additional reading: