---
Don't you find it amazing? The guy admits he is new to options, but wants to double the account "at least yearly".
Do you have realistic expectations?
My reply was:
"There is a lot of hype surrounding options trading. Some "gurus" out there will make you to believe that doubling your account every 6-12 months is an easy task. If it was, we all would be millionaires by now. My advice to you: if you just start options trading, preserving your capital during your first year of trading would be a great achievement"
I didn't hear from him since then. He probably went to one of those charlatans who promise to double your account in one month and charge you few thousand dollars for a week of "one on one consulting". Many people will tell you what you want to hear to get your hard earned money.
Here is another email from one of our members:
"I'm new to options trading. I'm retired and am hoping to make $1.25 million per year by trading"
This member cancelled after just 2 weeks. Why I'm not surprised? And honestly, I would be very interested to know the psychology behind people thinking they can have no experience with something, probably not even know how to place an order, and start making money with options right away. A 7 figure income in this case. But maybe it's the same psychology that makes people to believe that they can lose 50 pounds in 2 months without any effort..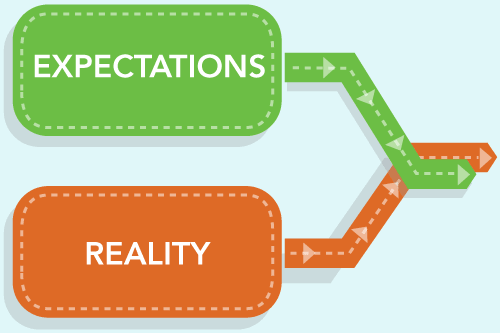 Making money with options is easy?
Here is the problem:
Making money with options is easy. Doing it consistently is much more difficult. People see all the hype and think it is an easy task. To become an engineer you have to study 4 years, and probably another 4 years (at least) to become a good one. Why people expect it to be different in trading?
I see sales pages all the time that show you 200%+ returns on some cheap options they bought. But what they don't tell you is that those trades happen once in a while and are not consistent. Maybe they did make 200%+ on a trade, but that doesn't happen all the time and to set your expectations that high would be very ignorant.
One website "challenges" you to turn 3k into 100k in four months (that's 3,233% in four months), charging $600/month in the process. They claim to do it successfully 2 times out of 11 challenges, but since the website is live less than a year, only one challenge was traded live. Incidentally, the live challenge has actually lost 99%.
I just got an email from someone saying "Give Me 9 Minutes a Week and I Guarantee You $67,548 a Year. $185 Per Day, Every Day… Forever". Seriously? Is it even legal to make any guarantees in the stock market, not to mention the ethical aspect?
There are many options sites that advertise "10%/month" or "5%/week" with no real effort. They might succeed doing that for a limited period of time, but it's only matter of time till they blow up their accounts. What they also "forget" to tell you that they present their returns as ROI (Return On Investment), not return on their whole account. You can read explanation about the difference here. In real life, 10% ROI would usually translate to 7-8% return on the whole account, before commissions.
I can assume that those guys are much richer than me. But to me, my integrity is more important than money. Honesty is not a good business and has cost me a lot of potential members, but I will not sell my beliefs and will not mislead people just to get them to sign up. Someone smarter than me said: Here is the inconvenient truth about successful trading: It's work.
Setting realistic expectations is very important. I'm a big fan of the "slow and steady" approach. Aim for many singles instead of few homeruns. Be patient. Be prepared to lose for a while - set your goal as capital preservation instead of doubling your account. Think about the risk first. If you take care of the risk, the profits will come.
Are you a quitter?
Unfortunately, I see many members who sign up for a SteadyOptions with unrealistic expectations. Here is how it usually works with those members. Statistically, SteadyOptions have about 2-4 really good months every year when we make 20-25%. Those members see those gains and join the service, only to see the next couple months going back to the "boring" 3-4% per month (or even suffering some small losses). They quit, just in time to miss the next hot streak. Believe it or not, but I had few members quitting and re-joining 4-5 times, repeating the same pattern over and over again, always missing the most profitable months. Many of them cancel after just few weeks or 3-4 bad trades.
One of my members told me after cancelling that he doesn't need me because he made 100%+ in 2013 trading mostly long calls. Well, 2013 was the best year for the S&P 500 since 1998, so making 100% with highly leveraged long strategies was not that difficult. I doubt this strategy would work well in 2008 or 2000. The key to successful trading is using strategies that work well in any market and have minimal drawdowns. Making 100% per year consistently and over time is an extremely difficult task. If you can do that, you would most definitely be among the top 0.1% traders in the world. In fact, most fund managers would dream to make half of that.
Van Tharp says successful trading/investing is 60% psychology...only 60%? Humans desperately want to believe there is a way to make money with no or little risk. That's why Bernie Madoff existed, and it will never change.
Some quick tips and facts
My good friend Kirk Du Plessis from OptionAlpha lists few things to consider as you write down your expectations and goals.
More traders lose more money than they make

. The figures are a little off depending on who you talk to, but it is 80% to 90% (maybe more) who end up losers and leave the business altogether.

Only a small percentage of retail traders are profitable

. The numbers get even smaller if you look at a 3-5 year average which measures consistency. Don't get discouraged, we all fell off the bike before we learned to ride it right?

Paper trade first with a small amount of money

. I always recommend members to paper trade everything first. This applies not only to new traders. Even if you have some experience with options, it always takes some time to get used to new strategies. This way you learn how to enter orders, adjust trades, and more importantly learn you're your mistakes without losing real money. Then when you are ready to invest real money, keep it small. Prove yourself that you can make money with 10k, then increase it to 20k and so on, but do it gradually.

You will have losing trades

. Too many people quitting after a streak of 4-5 losing trades. Losing money is part of the game, the trick is to keep the losses as small as possible.

Don't expect to become financially independent

. Don't you think it's completely unrealistic to expect a small account, say under $5,000, to generate consistent income to replace your regular job? I aim for many singles instead of few home runs.

If you are ready to start your journey AND make a long term commitment to be a student of the markets:
Related Articles:
Why Retail Investors Lose Money In The Stock Market
Are You Ready For The Learning Curve?
How to Calculate ROI in Options Trading
Performance Reporting: The Myths and The Reality
Are You EMOTIONALLY Ready To Lose?
Can You Really Turn $12,415 Into $4M?