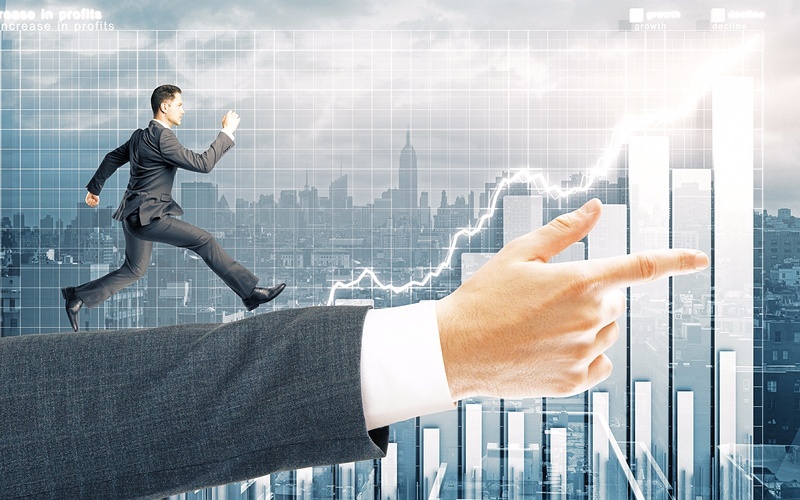 ---
Buy the Winners
Eugene Fama, Father of the Efficient Market Hypothesis (EMH), has referred to momentum as "the premier market anomaly" which represents "the biggest embarrassment for Efficient Market Theory". And it's also very simple. So simple that it's under appreciated.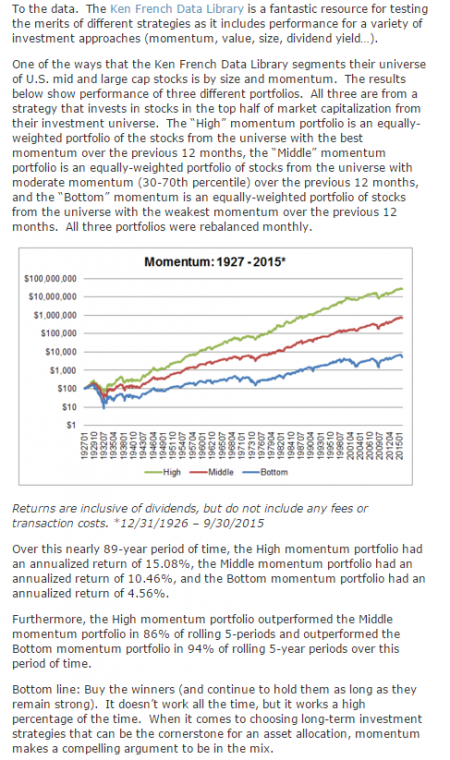 Source: http://systematicrelativestrength.com/2015/10/26/buy-winners-2/
In 1937 Cowles and Jones shared their findings that "taking one year as the unit of measurement for the period 1920 to 1935, the tendency is very pronounced for stocks which have exceeded the median in one year to exceed it also in the year following."
The key here is that it doesn't work 100% of the time. Listen to Jim O'Shaughnessy discuss this 
here
. Jim was comfortable writing "What Works on Wall Street" because he knew the tendency of humans to abandon strategies as soon as they went through a drawdown or period of relative underperformance. Human nature is unlikely to change, and this is a key belief to why simple strategies can continue to persist in a world of competitive markets. Since nothing works (meaning always producing profits and/or outperforming a benchmark) 100% of the time, the weak hands will eventually drop out. 
This is why I believe in combining together a few simple strategies where you have done a high degree of due diligence, and then follow them faithfully. When the next strategy of the month is in favor, you treat it with a high degree of caution and skepticism before even considering adjusting your plan. We all want to believe that the perfect strategy is out there that we just haven't found yet. I found it interesting as I read Ben Carlson's 
book
 that the largest Ponzi Scheme in history, run by Bernie Madoff, did not promise investors excessively high returns. It promised very good returns, but with almost no risk. Bernie was not stupid, he knew very well that humans desperately want to believe in the idea of making very good returns with little or no risk. From Ben's book:
"The beauty in Madoff's scam was the fact that he never promised home runs to his investors. Over an 18-year period, Madoff claimed to offer 10.6 percent annual returns to his investors, fairly similar to historical stock market gains. But the annualized volatility was under 2.5 percent, a fraction of the variability seen in the stock market, or the bond market for that matter. And what do investors want more than anything? If you answered a stock market return profile minus the stock market risk profile, you answered correctly. Investors want to believe this is possible."
Michael Covel had a discussion around this topic with Ewan Kirk of Cantab Capital during one of Michael's Trend Following podcasts.
I'm going to paraphrase about a five minute clip of the podcast which can be heard here. I highly recommend it.
The podcast
Covel: Losses are statistically inevitable.  There are still a number of people out there, some astute and some not, that still don't want to imagine losses as a part of the game.
Kirk: Yep, people are desperate to invest in something that never loses money.  And that, of course, is why Bernard Madoff existed.  Everyone is desperate to invest in something that never loses money. I'd like to invest in something which never loses money.  I'd love to come up with a strategy that never loses money. Of course, we all want that.
The reality is that maybe the best you can look for over a long period such as 20 or 30 years is a Sharpe ratio of .8, .9, maybe 1. 
Take a simulation of a 20% volatility with a 20% return per year. Every 2 years you will have a drawdown of 15% statistically, and a 20% drawdown every 4 years. And you don't have to run very many simulations before you get a 40% drawdown that can last five years.  Remember, this (simulation) is something that is guaranteed to make 20% per annum over a long enough period of time.  The expectation of losses should be something everyone should build into their investment process at all times.
Summary
The enemy of a good plan is the dream of a perfect plan.  Drawdowns and losses are part of the game but your human nature of survival will put up a fight against rationality when drawdowns occur.  The human brain is capable of incredible optimism as well as pessimism.  Be aware of it, and have expectations that are statistically valid.  Not just past performance.
Jesse Blom is a licensed investment advisor and Vice President of Lorintine Capital, LP. He provides investment advice to clients all over the United States and around the world. Jesse has been in financial services since 2008 achieving multiple industry achievements including qualifying membership in the Million Dollar Round Table for 5 consecutive years. Membership in this prestigious group represents the top 1% of financial professionals in the world. Jesse has a Bachelor of Science in Finance from Oral Roberts University.
Jesse is managing the LC Diversified portfolio.