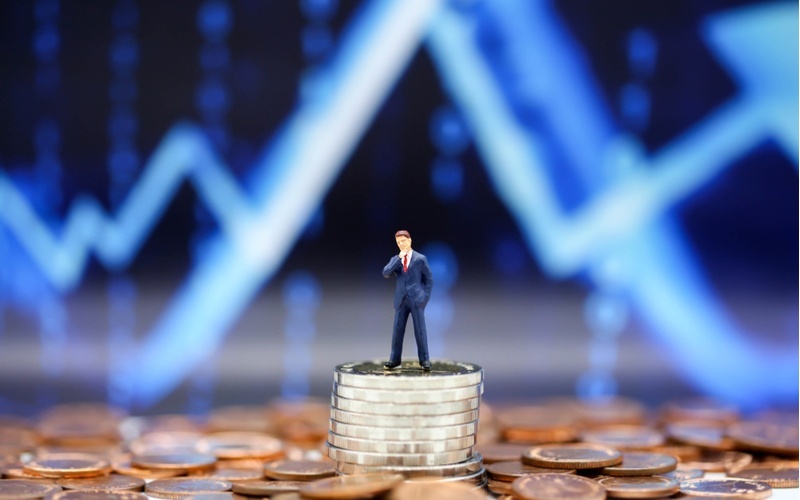 ---
This assumes your timing is made more reliable by selecting long or short positions in close proximity to resistance and support, and that the moneyness of the option also is considered. For short positions, focus on high volatility and very short time to expiration. For long positions, seek low volatility and a balance between cost and time.

The combined signals recommended for better than average timing are the combined 50-day moving average (MA) and the 8-day exponential moving average (which also is called the t-line). The combination of these two can be used to generate a trade based on crossover, and confirmed with secondary price signals.

For example, the six-month chart of Caterpillar (CAT) reveals two strong examples of crossover between the two priced averages, and confirmation in candlestick reversals.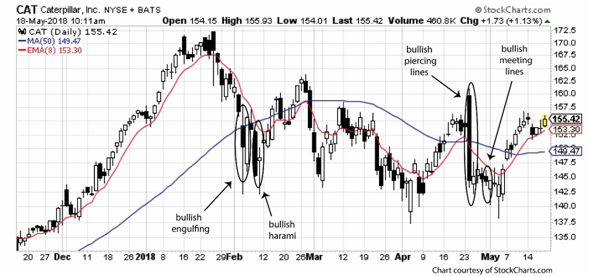 In both instances, the predicted bullish reversal occurred. The initial signal is when the 8-day EMA (t-line) crosses below the 50-day MA. This first occurred in the first week of February. This was confirmed by two bullish reversal candlesticks, a bullish engulfing and a bullish harami. The harami too price to the bottom of the downtrend, closing at about $145 per share. At this point, a bullish options trade would have made sense. If a current long put or short call was already open, this was the place to close. If no options were open at this point, it made sense to open a long call or a short put.

The subsequent bullish reversal too price up to $162.50 in only two weeks. Any open options could be closed after observing the running gaps at the end of this bullish run.

The second occurrence was at the end of April. The same formation of crossover predicted a bullish turn. This was confirmed by an unusually long black candle that formed into a bullish piercing lines signal. This was further confirmed immediately by a bullish meeting lines. This was a mild signal with low daily ranges, but it still worked as confirmation, predicting another bullish run. Opening bullish trades (or closing bearing trades) at this point would be well-timed, as price ran from $142 to $155 in only two weeks.

These short-term signals are exceptionally strong. The combination of a 50-MA simple moving average and an 8-day exponential moving average set up reversals via crossover; and as long as you find confirmation, it becomes a reliable timing signal for options trades.

The combination provides a secondary benefit as well. The 8-day EMA serves as dynamic support as prices rise, and as declining resistance as prices fall. This tends to be more reliable than the traditional straight-line resistance and support trendlines most traders follow.

Another secondary cautionary point: The 8-day trendline tends to give off reversal signals on its own, When this is below price, it indicates a bearish condition, and when above, the signal is bullish. At the conclusion of this chart, the 8-day EMA is below price, predicting a likely retracement to the downside. This is confirmed by another crossover, the move of the 50-day MA below the 8-day EMA. This confirms a likely bearish move to occur next.

Both of these moving averages are lagging indicators, so they have to be accepted with caution. This is why candlestick confirmation adds confidence to any reversal signal. However, even lagging indicators are of value in trading options, when used together as crossover set-up for confirmation, as seen on the CAT chart.

Any help options traders can get from price signals like these, is worth keeping on the chart. Once a position is opened, look for the warning signs that a favorable trend is ab out to level out or reverse. Once an option has been closed, look for potential reversal points to enter a new position and take advantage of a reversal.

There is no such thing as a "perfect" signal, and no one will get 100% perfect timing. But using two or more signals together like these two moving averages, improves your overall timing and profits in entering and exiting options positions.

Michael C. Thomsett is a widely published author with over 80 business and investing books, including the best-selling Getting Started in Options, coming out in its 10th edition later this year. He also wrote the recently released The Mathematics of Options. Thomsett is a frequent speaker at trade shows and blogs on his website at Thomsett Guide as well as on Seeking Alpha, LinkedIn, Twitter and Facebook.